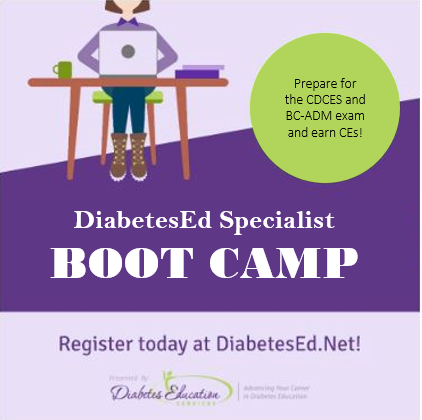 The purpose of this course is to spend focused time reviewing insulin pattern management, dosing strategies, basal-bolus, and carb counting calculations. We explore the ins and outs of monitoring, sick day management, and provide a brief review of hypoglycemia and Hospitalization. This course content will boost your knowledge and confidence in recommending insulin adjustments to patients and providers.
Intended Audience:  A great course for anyone in the field of diabetes education seeking evidence-based information supporting lifestyle changes.
Instructor: Beverly Thomassian RN, MPH, CDCES, BC-ADM is a working educator and a nationally recognized diabetes expert.
This course is part of our Level 3 – Boot Camp. Enroll in our entire Level 3 – Boot Camp to join us for the following 2021 Live Webinar Updates. All courses air at 11:30 a.m. (PST)*
February 9, 2021 – Diabetes – Not Just Hyperglycemia 1.75 CEs
February 11, 2021 – Meds for Type 2 – What you need to know 1.5 CEs
February 16, 2021 – Glucose and Cardiovascular Goals and Interventions 1.5 CEs
February 18, 2021 – Insulin Therapy – From Basal/Bolus to Pattern Management 1.5 CEs
February 23, 2021 – Insulin Intensive – Monitoring, Sick Days, Lower Extremities 1.5 CEs
February 25, 2021 – Medical Nutrition Therapy and Exercise 1.5 CEs
March 2, 2021 – Screening, Prevention, and Treatment of Microvascular Complications 1.5 CEs
March 4, 2021 – Coping and Behavior Change 1.5 CEs
March 9, 2021 – Test Taking Coach Session (48 Questions) No CEs
*dates subject to change
All hours earned count toward your CDCES Accreditation Information