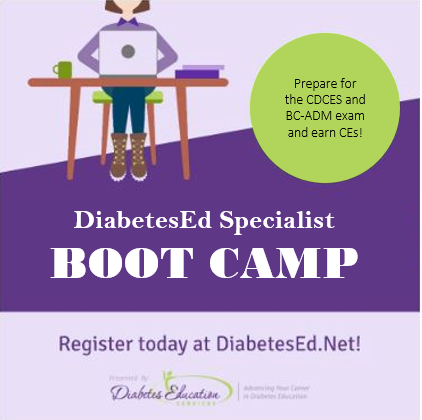 Get ready to lead the charge to implement best care practices for the New Year. 
It's that time of year when we get nerdy about the release of the Updated ADA Standards of Care. Coach Beverly carefully reviewed the 2020 ADA Standards with special attention to critical additions and updates. 
Intended Audience:  A great course for anyone in the field of diabetes education seeking evidence-based information supporting lifestyle changes.
Instructor: Beverly Thomassian RN, MPH, CDCES, BC-ADM is a working educator and a nationally recognized diabetes expert.
This course is part of our Level 3 – Boot Camp. Enroll in our entire Level 3 – Boot Camp to join us for the following 2021 Live Webinar Updates. All courses air at 11:30 a.m. (PST)*
February 9, 2021 – Diabetes – Not Just Hyperglycemia 1.75 CEs
February 11, 2021 – Meds for Type 2 – What you need to know 1.5 CEs
February 16, 2021 – Glucose and Cardiovascular Goals and Interventions 1.5 CEs
February 18, 2021 – Insulin Therapy – From Basal/Bolus to Pattern Management 1.5 CEs
February 23, 2021 – Insulin Intensive – Monitoring, Sick Days, Lower Extremities 1.5 CEs
February 25, 2021 – Medical Nutrition Therapy and Exercise 1.5 CEs
March 2, 2021 – Screening, Prevention, and Treatment of Microvascular Complications 1.5 CEs
March 4, 2021 – Coping and Behavior Change 1.5 CEs
March 9, 2021 – Test Taking Coach Session (48 Questions) No CEs
*dates subject to change
All hours earned count toward your CDCES Accreditation Information