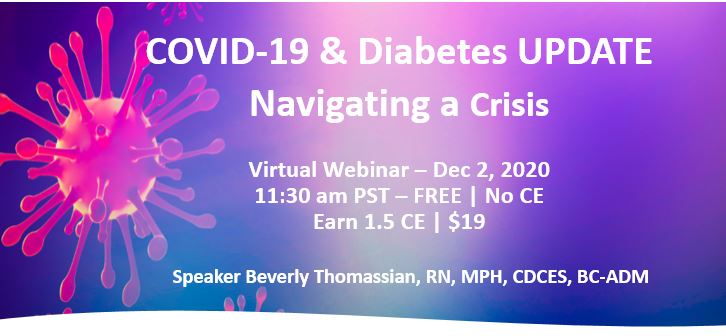 COVID & Diabetes Update – Navigating a Crisis
Join our Live Webinar on December 2 at 11:30 am PST | Earn 1.5 CE | $19
Save your Seat – Purchase for $19 | 1.5 CEs or Join Webinar for FREE | No CEs
With the surge in new COVID cases, what is the essential information health care professionals and Diabetes Specialists need to navigate this overwhelming crisis?
What are the best practices to care for people with diabetes and COVID-19 in the outpatient and hospital setting?
Coach Beverly Thomassian, RN, MPH, CDCES, BC-ADM, has completely updated this critical presentation, to bring health care professionals up-to-date on the current state of COVID and its impact on diabetes care. She summarizes key information including critical teaching points and management strategies for people with diabetes who develop a COVID-19 infection.
Topics Include:
Discuss the current state of diabetes in the United States.
Describe the relationship between COVID and health care disparities
Explore the impact of COVID infection on those with pre-existing diabetes.
Discuss treatment strategies for COVID and diabetes, including new vaccines.
List critical teaching points for people with diabetes and COVID.
If you miss the live version, your registration guarantees access to the recorded version.
Join us to learn critical information about Diabetes and COVID Management.