"The goal of this conference is to give voice to courageous women leaders who have made a significant impact in their communities and beyond." – Beverly Thomassian RN, MPH, CDE®, BC-ADM
Our Intention is to inspire diabetes health care professionals to take risks, try new approaches and envision themselves as powerful change agents.
To generate excitement and action toward change, we are building in purposeful time for networking, creating a plan for change and movement breaks, which include short activities and dancing in between speakers.
May 10th, 2019 | San Francisco, CA
Location: AC Hotel San Francisco Airport / Oyster Point Waterfront
1333 Veterans Blvd, South San Francisco, CA  94080
CEs – 7.5 for Nurses, RDs and CA Pharmacists
Sign-up for Priority Notification when Registration Opens
Registration Fee: includes breakfast, lunch, Diabetes Med PocketCards, CE Certificate
Before Feb 15th, 2019: $199
After Feb 15, 2019: $249
Tickets on sales soon!
For this conference, we have carefully created an agenda that includes a variety of women leaders and trailblazers in the field of diabetes and in their communities. We are inviting them to share their journey and vision to inspire future generations of leaders. 
Keynote presenters include: Ann Albright, Nicole Johnson, Theresa Garnero, Beverly Thomassian and more.  See   agenda for a more complete listing.
Agenda | Women as Change Agents in the Diabetes Landscape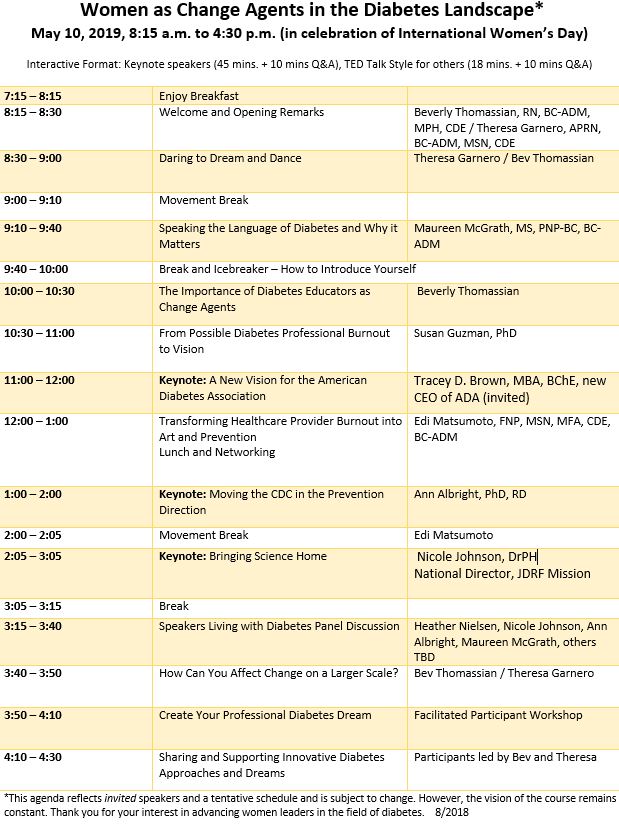 Objectives:  Participants will gain the following upon conclusion of this program:
Transform view of how to deliver and improve diabetes care
Network and share experiences with colleagues
Gain fresh ideas for teaching and participant activities
Develop a plan for future action
Team of Experts: This program is a labor of love and passion. It is a dream co-opted by two Diabetes Nurse Specialists and Certified Diabetes Educators (CDEs) who believe that women make a powerful difference in the lives of people living with diabetes.
Beverly Thomassian, Diabetes Education Services RN, MPH, CDE, BC-ADM, President and Founder, Diabetes Education Services (www.diabetesed.net)
Theresa Garnero, APRN, BC-ADM, MSN, CDE, President and Founder of Diabetes Catalysts (www.diabetescatalysts.com)