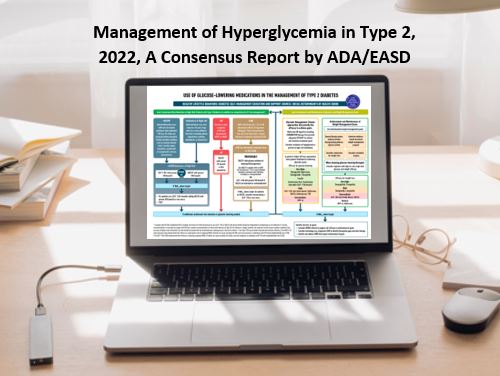 Plan on joining this exciting webinar that walks participants through the newly released, "Management of Hyperglycemia in Type 2 Consensus Report by the ADA and EASD".  These updated guidelines will be incorporated into the 2023 ADA Standards of Care, but you can get a early sneak peak by joining Coach Beverly on December 1st, 2022.  She will highlight the revised guidelines with a focus on new elements and exciting changes on how we approach medication management for type 2 diabetes. Together, we will explore clinical factors to consider when determining the best strategy to improve glucose management in people with type 2 diabetes and other co-conditions. There will be a special focus on cardiovascular risk reduction and renal protection and addressing clinical inertia.
Objectives:
Describe the role of Diabetes Care and Education Specialists in advocating for optimal therapeutic approaches.
Discuss application of the new ADA/EASD Guidelines to improve glucose and reduce CV and renal risk.
List strategies to initiate and adjust oral and injectable therapy using a person centered approach,.
Intended Audience:  A great course for health care professionals seeking evidence-based information that improves quality of life and outcomes.
Instructor: Beverly Thomassian RN, MPH, CDCES, BC-ADM is a working educator and a nationally recognized diabetes expert.
Earn 1.5 CEs   Fee: $29.00 – Click here to enroll in the course.
All courses air at 11:30 a.m. (PST)L
Enroll in our entire Level 2 – Standards of Care Series.
Our Level 2 Courses breakdown the ADA Standards of Care into knowledge nuggets that highlight the critical content needed for clinical practice and exam success.  You can choose to view the courses in the same order as the Standards as indicated by class number. Or you can navigate your own path, starting with the content you are least familiar with, then moving forward into the topics that you have the greatest knowledge.
Upcoming 2022 & 2023 Level 2 Courses
See a list of all the Level 2 – Standards of Care here. Can't join us live? We understand. You purchase guarantees access to the recorded version for a full year, in addition to handouts, resources and a program podcast. 
All hours earned count toward your CDCES Accreditation Information