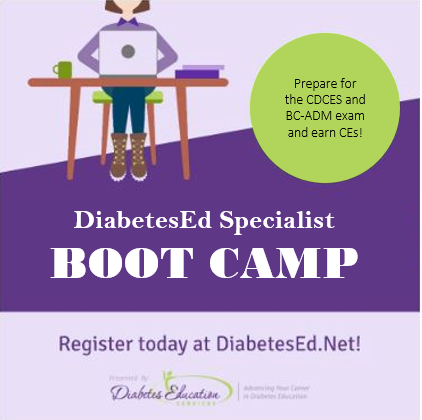 The purpose of this course is to spend focused time reviewing insulin pattern management, dosing strategies, basal-bolus, and carb counting calculations. We explore the ins and outs of monitoring, sick day management, and provide a brief review of hypoglycemia and Hospitalization. This course content will boost your knowledge and confidence in recommending insulin adjustments to patients and providers.
Objectives:
Determine appropriate insulin dosing
Calculate insulin sensitivity and carb to insulin ratios
Consider individual characteristics when determining insulin dosing
Discuss management of diabetes during sick days and hospitalization
List the elements involved in a Lower Extremity Assessment
Intended Audience:  This library of critical information is designed for individuals or groups of diabetes specialists, including RNs, RDs, Pharmacists, Nurse Practitioners, Clinical Nurse Specialists, Physician Assistants, and other health care providers interested in staying up to date on current practices of care for people with diabetes and preparing for the BC-ADM or the CDCES certification Exam.
Instructor: Beverly Thomassian RN, MPH, CDCES, BC-ADM is a working educator and a nationally recognized diabetes expert.
This course is part of our Level 3 – Boot Camp. Enroll in our entire Level 3 – Boot Camp to join us for the following 2022 Live Webinar Updates. All courses air at 11:30 a.m. (PST)*
February 8, 2022 – Class 1 – Diabetes – Not Just Hyperglycemia 1.75 CEs
February 10, 2022 – Class 2 – Standards of Care & Cardiovascular Goals 1.5 CEs
February 15, 2022 – Class 3 – Insulin Therapy – From Basal/Bolus to Pattern Management 1.5 CEs
February 17, 2022 – Class 4 – Insulin Intensive – Monitoring, Sick Days, Lower Extremities 1.5 CEs
February 22, 2022 – Class 5 – Meds for Type 2 – What you need to know 1.5 CEs
February 24, 2022 – Class 6 – (Exercise and) Medical Nutrition Therapy 1.5 CEs
March 1, 2022 –  Class 7 – Microvascular Complications and Exercise – Focus on Prevention 1.5 CEs
March 3, 2022 – Class 8 – Coping and Behavior Change 1.5 CEs
March 8, 2022 – Class 9 – Test-Taking Coach Session (48 Questions) No CEs
*dates subject to change
All hours earned count toward your CDCES Accreditation Information